Flowers look beautiful when chosen for accessorizing. Long hair can be frustrating to manage when it comes to trying for different looks, but flowers can really come in handy to styling aesthetic hairstyles for different looks in no time.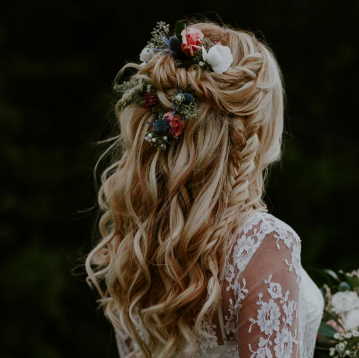 We are here enlisting the top five cool long hair hairstyle ideas with a flower to create an aesthetic hairstyle that can keep hair in place without compromising on the style.
Top 5 hairstyles for long hair with flower
Half-up updo: to opt for the sophisticated look, the twisted half-up updo is a perfect style to choose for. You can adorn long to medium length hair easily with a hairstyle where you can show length along with keeping them perfectly managed. It is a must-try and princess-worthy look that can complement different style dresses easily. You can add flowers into the buds and form the illusion of sprouting flowers.
Plaited tresses: long hair inspirational hairstyle is none other than plaited tresses that can be braided by the expert only where it will more look like a crown. Flowers can add the finishing touch to the look and accessorize the hairstyle perfectly. With this hairstyle, you can surely feel the vibe of the princess and special with the proper hairstyle that will stay in place until you undo it.
Classic bun: one of the preferable hairstyles for long hair is the classic bun, where you can also create the perfect hairstyle in no time. Classic bun never fails to show a graceful look, but choosing for the perfect look can surely come in handy with this hairstyle. To make it look aesthetic, choose to add different flower hair clips or tiara for enhancing the overall look of hair.
Tiny braids: if you have long hair, why to hide them in some bun or updos? It is better to flaunt the look. To style hair and to keep them a manageable whole day for different hairstyles, choose to add tiny braids and accessorize with flowers for making your hair look perfect. It can be one of the most considerable flower hairstyle ideas for long hair that can go along with different looks and events.
Loose curls with flower tuck: it is a perfect decision for people to choose for loose curls, which will make long hair easily managed. You can just tuck a flower into the hair with a simple clip to give a more aesthetic vibe.